Minecraft 1.4.7 THX Flyable Helicopter Mod + Download 🙂
DOWNLOAD
TUTORIAL
MORE INFORMATION
Mod:
THX Flyable Helicopter
Mod by:
Theoxylo
Written Install Tutorial:
*Download and install Modloader
*Navigate to your minecraft.jar file. This can be found by opening up Minecraft, going to the options menu, and click "Game location on disk".
*Then navigate to the bin directory and open minecraft.jar in a program such as WinRar or 7-Zip
*Delete the META-INF folder.
*Move the THX Helicopter Zip file into the .minecraft/mods folder. If you don't have this folder, create it or run Minecraft once.
How-to Create a Helicopter:
*Add 6 Wooden Planks to your Inventory
*Add 1 Crafting Table to your Inventory
*Open Crafting Table to your Inventory
*Create a 'boat shape' with the Wooden Planks – this will create the THX Helicopter icon
*Drag THX Helicopter icon to your Inventory
*Right mouse click (mouse 2) to spawn a helicopter
Crafting Receipe: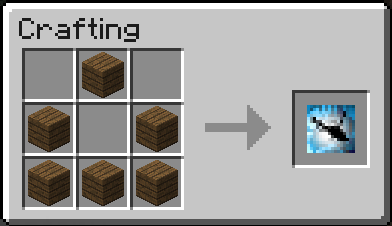 Helicopter Controls:
W = forward
S = backward
A = strafe left
D = strafe right
Use the mouse to turn left or right
Space Bar = ascend
Left Shift = descend
Mouse Button 1 = missile
Mouse Button 2 = rocket
Download: HERE!!!