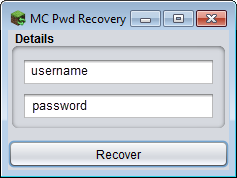 MORE INFORMATION
Tool:
Minecraft Password Recovery Tool (Dump.jar GUI)
Tool by:
XAMPP
GUI by:
tomass1996
About:
This tool will read your 'lastlogin' file and provide you with the username and password of the last Minecraft user to login. Useful for recovering your password if you are unsure of what you changed it to.
Usage:
Run .jar and click the 'Recover' button to discover the last Minecraft user/pass.
Learn More: HERE!!!
Download: HERE!!!